Kickstart This! #79: Techlandia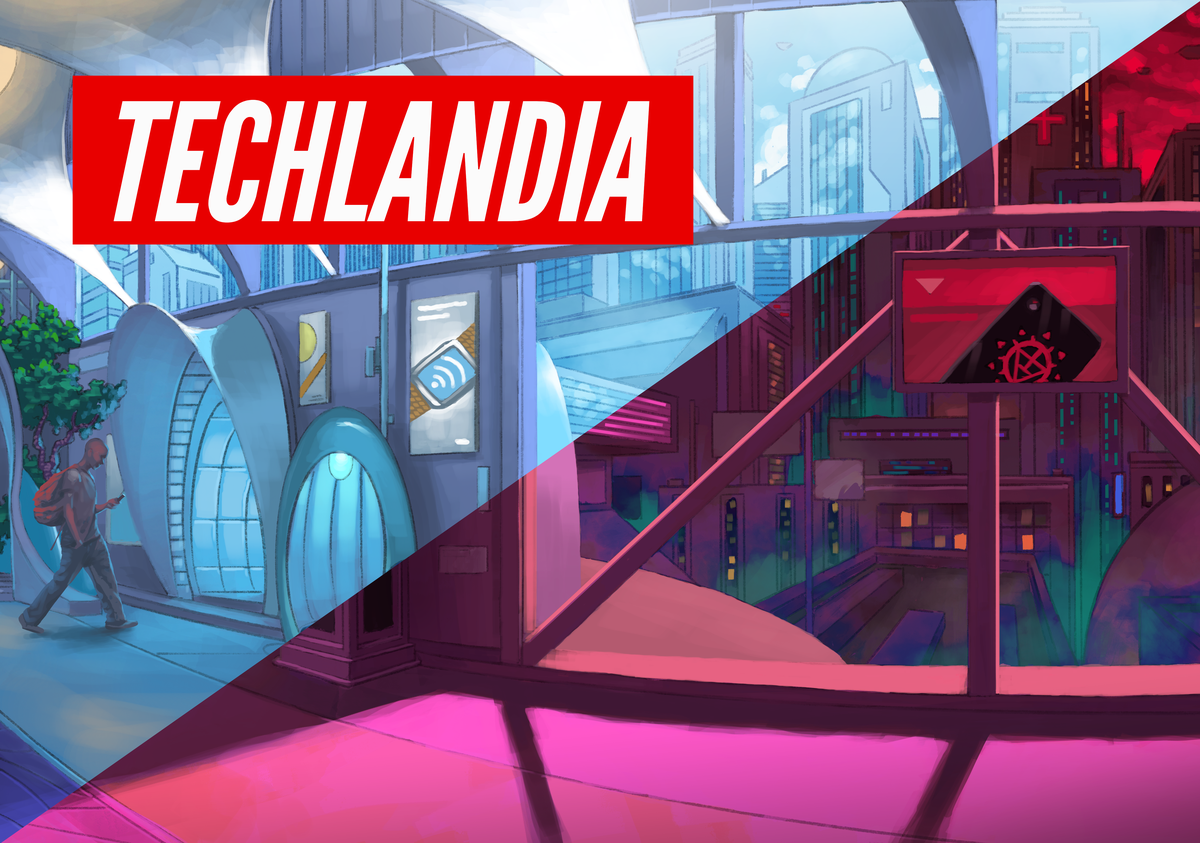 Designer: Dan Ackerman

Artist: Dan Ackerman

Publisher: 11231 Games

Genre/Mechanisms: dice rolling, exploration, hand management, hex-and-counter, horror, miniatures, modular board, player elimination, role-playing

Funding Status: At the time of this posting, Techlandia is already fully-funded.  In fact, pledges currently total just over the initial funding goal with 5 days left to go on the campaign.

Player Count: 1-4

Solo Mode: yes

Complexity: medium-light

Risk: high

What It's About:  Lovecraftian horror meets Silicon Valley tech in this smaller, episodic dungeon-crawler.

How It Works: Each round, players take up to 2 actions in turn order. These can include: Moving to a directly-connected room, Investigating a room for clues, Picking Up a QR Code from a room, Fighting a Tech Cultist or other enemy, Reloading your Gear Deck from the Press Room, and Submitting a QR Code to the Security Scanner. At the end of each round, the Doomsday Clock counts down by 1, and after 20 rounds, CEO Dexter Ward unveils the new TX-1 Smartphone on the center stage.

Comparisons: Lately we've seen a few smartphone-themed games on Kickstarter, including It's a Wonderful World and Smartphone Inc. The inclusion of Lovecraftian elements takes a page from the likes of Elder Sign, Mansions of Madness, and Arkham Horror, and pairs it with the tech world of Silicon Valley to create a more unique theme. The recent The Chronicles of Crime and its expansions have also successfully included QR code-based gameplay.

What Should I Pledge?:
$39 Techlandia: The Core Game: includes the core box and all unlocked stretch goals, the deluxe print & play version, custom 3D .stl files for deluxe game accessories, and the online Tabletopia version.
$99 Techlandia: Core Game + Prototype: everything in the Core Game pledge level, plus a one-of-a-kind prototype set included 3D-printed minis, limited to 15 copies total.
$199 Special Request: Custom Enemy: everything in the Core Game pledge level, plus a collaboration with the game's designers to create a custom-designed Enemy card.

Add-Ons:
None.

KS Exclusives:
None.

All-In Total: Assuming you don't feel the need to purchase an expensive prototype or have a vanity card created, then in the continental U.S. you're looking at $39 with free shipping!

Techlandia completes its Kickstarter on Thursday, September 5th and tentatively ships in April 2020.