Kickstart This! #314: Alhambra Big Box 2nd Edition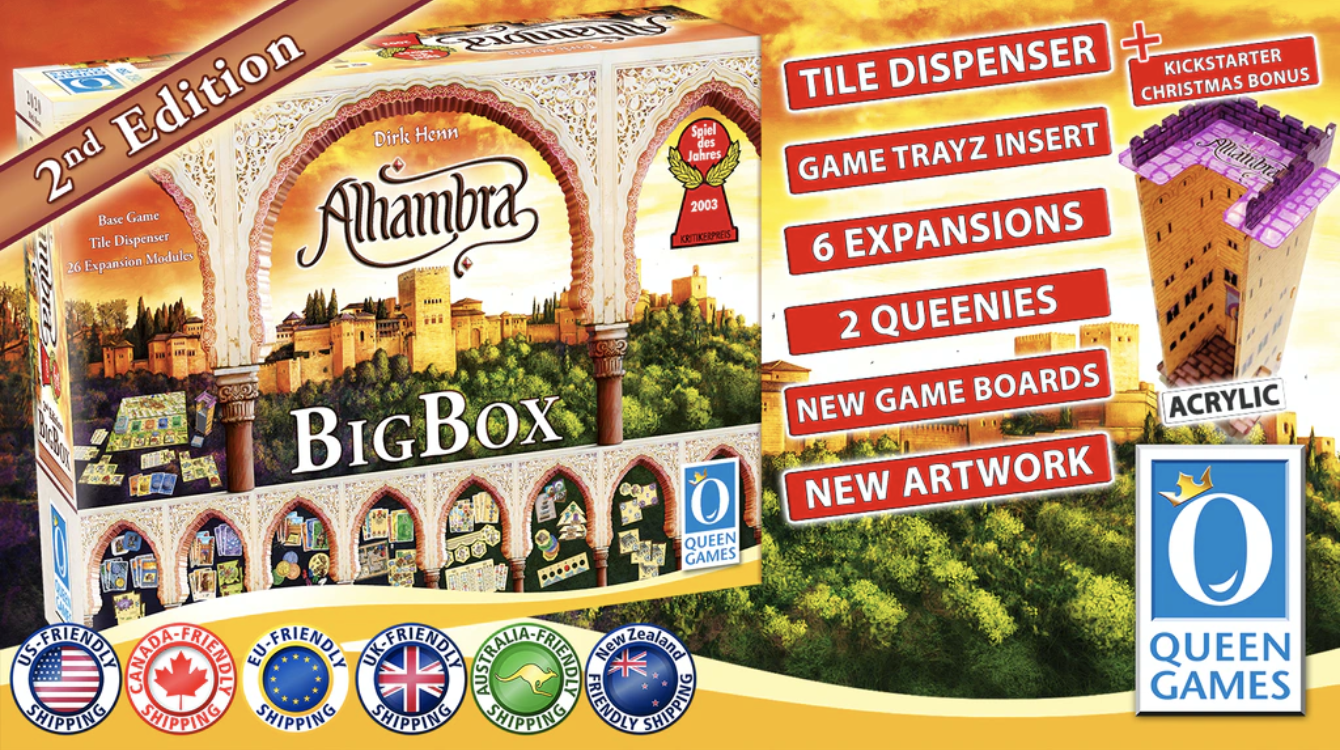 Designers: Jo Hartwig (Ringgeister), Dirk Henn (The Rose King, Shogun, Wallenstein), Wolfgang Panning (Fresco, Maharani, Olé!)

Artists: Hans-Jörg Brehm (California, Industria, Rat Hot), Jo Hartwig (Middle-earth, Show Manager, Trajan), Christof Tisch (Carcassonne: The Castle, Carcassonne: South Seas, Diamant, Dominion, Dominion: Intrigue, Wallenstein)

Publisher:  Queen Games (Amerigo, Chicago Express, Escape: The Curse of the Temple, Fresco, Kingdom Builder, Lancaster, Luxor, Merlin, Shogun, Thebes, Wallenstein)

Genre/Mechanisms: card drafting, city building, hand management, pattern building, set collection, tile placement

Funding Status: At the time of this posting, Alhambra Big Box 2nd Edition is already fully-funded. Pledges currently total more than 26x the initial funding goal, with 5 days left to go on the campaign!

Player Count: 2-6

Solo Mode: no

Complexity: medium-light

Risk: low

What It's About: "Players are acquiring buildings to be placed within their Alhambra complex. Players with the most buildings in each of the six building types in their Alhambra score in each of the scoring phases, and points are awarded for players' longest external 'wall' section within their complex. The new Kickstarter features all new artwork, all 6 expansions, 2 Queenies and Tile Dispenser Tower."

How It Works: "Play proceeds in a clockwise direction, beginning with the starting player. The player whose turn it is must do one of three things: 1) Take some money, 2) Buy and position a building tile, or 3) Redesign their own Alhambra. After a player's turn is over any money cards and building tiles which have been removed are replaced with new ones so that there are always 4 of each."

When taking money, "a player can take any one of the money cards from those lying face-up, or several money cards if they do not add up to more than 5 (the currency does not matter)."

When buying tiles "a player can buy a building tile from the building market. He must pay at least the price shown on the tile and use the currency displayed next to the tile in the building market. But take care – no change is given! The money used to pay for the tile is placed on a discard pile next to the building market. If you can pay the exact amount it is still your turn and you can decide once more which of the three options you would like to take. While it is your turn no new tiles are placed on the building market. It is only at the end of your turn that the empty squares are refilled with new tiles."

Then "you can either 1) add your new building tile to your Alhambra, or 2) place it on your reserve board. You can have as many building tiles on your reserve board as you want. You must build your Alhambra according to the following: 1) All building tiles must be the same way round as your starting tile (all roofs must point upwards); 2) Adjoining sides must be the same (they must either both have a wall or both not have a wall); 3) You must be able to reach each new building tile "on foot" from the starting tile without crossing a wall and without going off the tiles; 4) Each new tile must be joined to your Alhambra by at least one side (it cannot be joined just at a corner); and 5) You must not leave any "spaces" (an empty area surrounded on all sides by building tiles)."

When redesigning your Alhambra, "there are three ways in which you can redesign your Alhambra: 1) You can take a building tile from your reserve board and add it to your Alhambra; 2) You can remove a building tile from your Alhambra and put it on your reserve board; or 3) You can exchange a building tile on your reserve board for one in your Alhambra. If you do this the new building tile in your Alhambra must go in exactly the same place as the one you remove."

"There are 3 scoring rounds during the game. The first two take place when the scoring cards are drawn from the pile of money cards. The third and final scoring round takes place at the end of the game." During the first Scoring Round, "only the players with the most buildings of each kind receive points." During the second Scoring Round, "only the players with the most and second-most buildings of each kind receive points." During Final Scoring, "only the players with the most, second-most, and third-most buildings of each kind receive points." In each Scoring Round, all players will receive points for their longest wall. After Final Scoring, the player with the most total points wins.

Comparisons: The following games all feature drafting, set collection, and tile placement: Azul, Azul: Stained Glass of Sintra, Bärenpark, Between Two Cities, Between Two Castles of Mad King Ludwig, Castles of Mad King Ludwig, Ex Libris, The Isle of Cats, Glass Road, Riverboat, Santa Maria, Shipyard, Tang Garden, Terraforming Mars, and Viceroy,

What Should I Pledge?:
$80 Alhambra Big Box 2nd Edition Big Box: includes the new revised Big Box (with 6 expansions and 2 Queenies for a total of 26 different expansion modules, as well as a GameTrayz insert) and the Acrylic Tile Tower.
$139 Late Bird Christmas Bundle: includes everything in the Alhambra Big Box 2nd Edition Big Box pledge, plus the Limited Designers' Expansion (with an additional 17 expansion modules) and the Lion Fountains.
$150 Christmas Bundle: includes everything in the Late Bird Christmas Bundle without the $11 discount.

Add-Ons:
None.

KS Exclusives
Nope.

All-In Total: In the continental U.S. you're looking at $139 for the Late Bird Christmas Bundle (if they are still available) and $25 in shipping for a total of $164.

Alhambra Big Box 2nd Edition completes its Kickstarter on Tuesday, December 22nd and tentatively ships in September 2021.