Kickstart This! #309: Star Scrappers: Orbital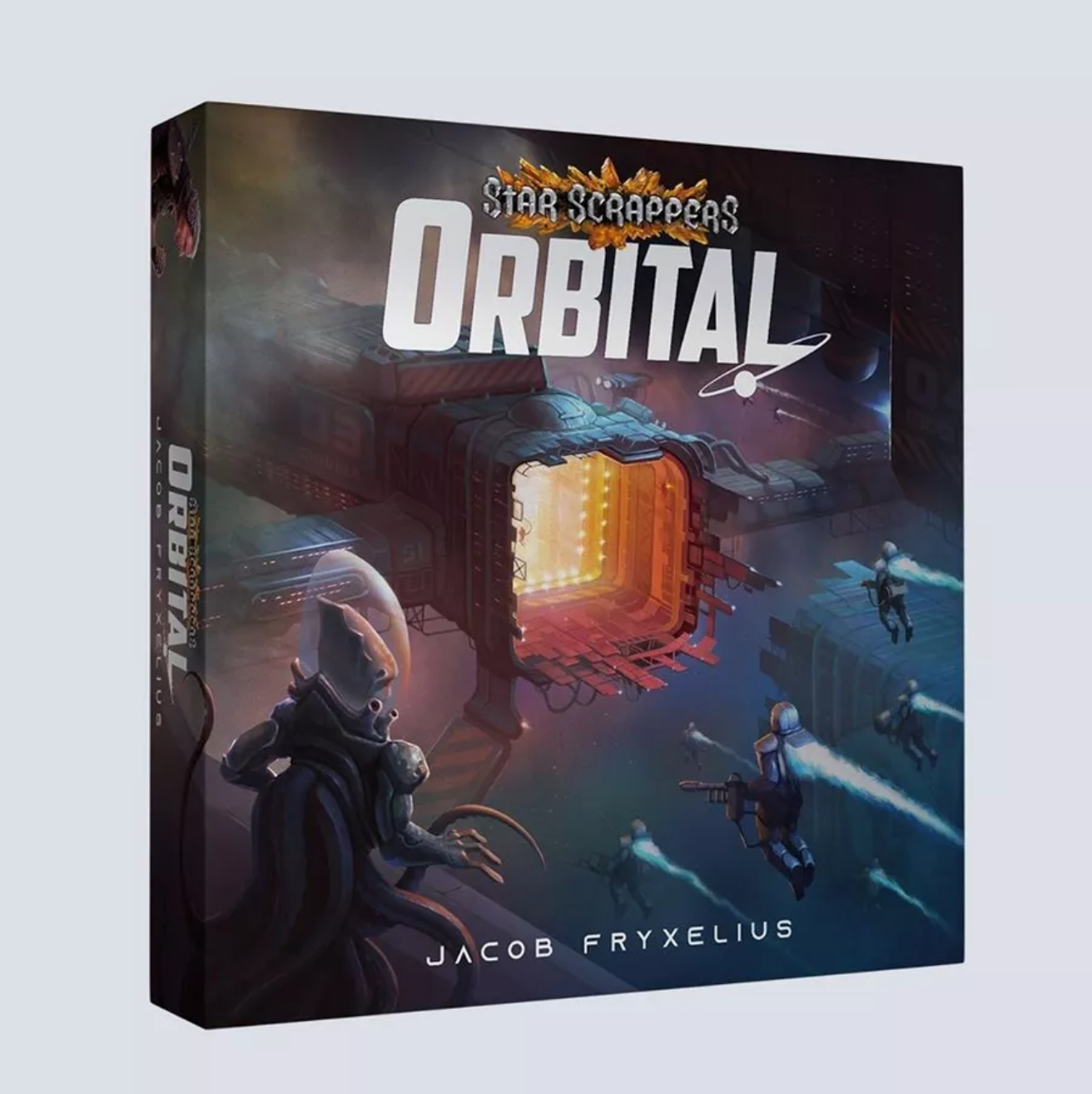 Designer: Jacob Fryxelius (After the Virus, Space Station, Terraforming Mars)

Artist: Przemysław Gul (Slyville)

Publisher: Hexy Studio (Hard City, Slyville, Star Scrappers: Cave-in)

Genre/Mechanisms: card game, hand management, pattern building, science fiction, space exploration, worker placement

Funding Status: At the time of this posting, Star Scrappers: Orbital is already fully-funded. Pledges currently total more than 8x the initial funding goal with less than 1 day to go on the campaign.

Player Count: 1-5

Solo Mode: yes

Complexity: medium-light

Risk: medium-high

What It's About: "Star Scrappers: Orbital by Jacob Fryxelius, the designer of Terraforming Mars, is based on his Space Station card game, which has been mechanically streamlined, updated and re-themed to fit the Star Scrappers universe – a space western setting created and developed by Hexy Studio."

How It Works: "Welcome to the Star Scrappers universe! Have a seat and get comfortable in the commander chair on an orbital – one of many space stations that are being constructed in the asteroid belt called the Sybil Cloud. Deposits of Hexis – the most desired mineral in the entire Galaxy – have been discovered there, attracting numerous daredevils willing to extract the precious crystals. Miners have to do business and enjoy themselves somewhere, so you and your corporation are here to provide them with accommodation and, naturally, to get rich!"

The game spans 5 years (rounds), marked on the Year card by the Year marker. In Star Scrappers: Orbital, each player builds their own orbital, starting with a core module. During the game, they take turns to perform one action each: build modules to expand their orbitals, play event cards, make repairs, buy cards from the market, and operate their modules. When everyone has passed consecutively (usually because they run out of cards or money), the year ends and Victory Points (VPs) are awarded to the players with the most non-damaged modules in each color. Then each player gets new crew, money, cards, and starts the next year. There are 6 kinds of modules that each have their own color and theme: Structural (red) for General functions, Bio (green) for Providing crew, Commercial (orange) for Income, Support (brown) for Building/Repairs, Scientific (blue) for Drawing cards, and Military (purple) for Attack/Defense."

"During a game round, the players take turns taking actions until every-one has passed. On your turn, you can only take 1 of the following actions: Build (Price: 6 MC); Upgrade (Price: 4 MC); Purchase (Price: 1-5 MC); Operate; Play Event; Repair. (Price: 3 MC); and Pass."

At the end of each round of the game, players receive Victory Points for each of the 6 module colors, and 1 VP is awarded to the player(s) with the most non-damaged modules of that color. During the last year of the game, 2 VPs are awarded for each color instead of just 1, and the player with the most VPs wins the game.

Comparisons: Other tableau-builders include 7 Wonders, 51st State: Master Set, Among the Stars, The Bloody Inn, Bruges, Citadels, Deus, Elysium, Eminent Domain, Everdell, Fantastic Factories, Fields of Green, Ginkgopolis, Gizmos, Glass Road, Glen More, Glen More II: Chronicles, Glory to Rome, La Granja, Homesteaders, Imperial Settlers, Innovation, It's a Wonderful World, Last Will, Lewis & Clark: The Expedition, London, Lorenzo il Magnifico, Machi Koro, The Manhattan Project, The Manhattan Project: Energy Empire, Millennium Blades, Mottainai, Nations, Nations: The Dice Game, New Frontiers, Newton, Oceans, Ora et Labora, Pax Pamir, Pax Porfiriana, Pax Renaissance, Port Royal, Power Grid, Race for the Galaxy, Res Arcana, Saint Petersburg, San Juan, Santa Maria, Space Base, Targi, Terraforming Mars, Unfair, Valeria: Card Kingdoms, Viceroy, and Wingspan.

What Should I Pledge?:
$39 Core Set: includes Star Scrappers: Orbital and the Exclusive: Envoys Expansion.
$66 Deluxe Crew Set: includes everything in the Core Set pledge level plus the Exclusive: Crew.
$107 Universe Set: includes everything in the Deluxe Crew Set plus the previous game in the series, Star Scrappers: Cave-In as well as the Exclusive: Faction Totems (for Cave-In) and the Exclusive: Legendary Mercenaries (for Cave-In).

Add-Ons:
$21 Cave-In Faction Totems (6)

KS Exclusives
Hexy made it easy by labeling everything as exclusive. This includes the Mini-Expansion Envoys in every pledge, the Crew with 25 Organic Glass Astronauts, the Faction Totems, and the Legendary Mercenary cards.

All-In Total: Assuming you're not interested in the previous game in the series (Cave-In) or the extras for it, then in the continental U.S., you're looking at $66 for the Deluxe Crew Set and $18 in shipping for a total of $84.

Star Scrappers: Orbital completes its Kickstarter on Saturday, November 21st and tentatively ships in May 2021.