Kickstart This! #198: MIND MGMT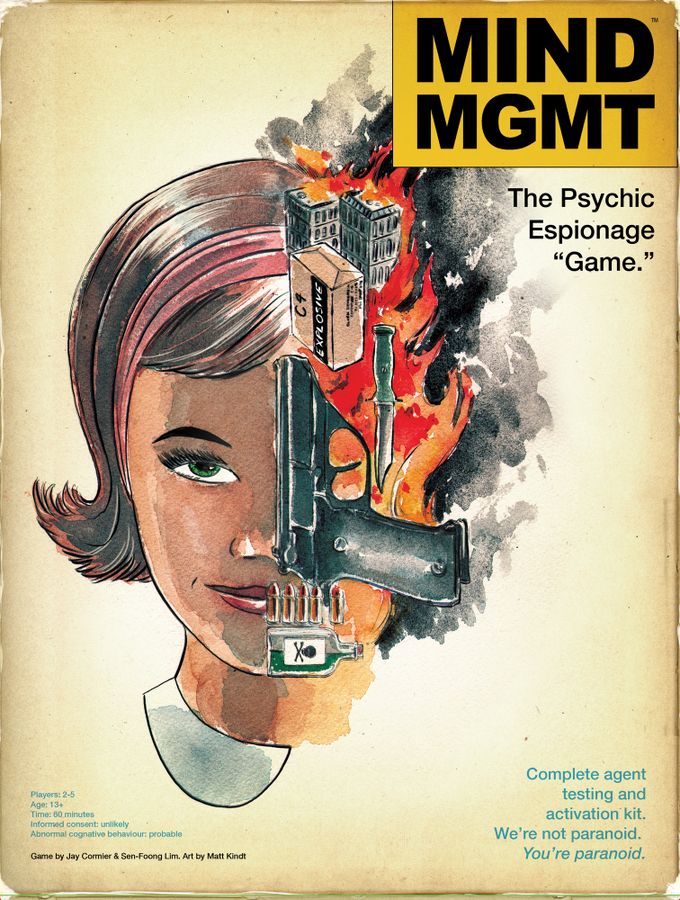 Designers: Jay Cormier (Akrotiri, Belfort, Junk Art), Sen-Foong Lim (Akrotiri, Belfort, Junk Art)

Artist: Matt Kindt

Publisher: Off the Page Games

Genre/Mechanisms: deduction, grid movement, point to point movement, team-based game, variable player powers

Funding Status: At the time of this posting, MIND MGMT is already fully-funded. Pledges currently total 3x the initial funding goal, with 7 days to go on the campaign.

Player Count: 2-5

Solo Mode: no

Complexity: light

Risk: HIGH

What It's About: "A hidden movement game of deduction and teamwork, introducing the new SHIFT System."

How It Works: "One player plays as the Recruiter for MIND MGMT. They plot out their moves on a Secret Map behind their Mental Screen, ensuring that they never step onto the same location twice. The Recruiter is motivated to move to locations that contain a Feature matching one of the three Feature cards they drew during setup. The rest of the players are the Rogue Agents."

"On an Agent's turn, they can move up to 2 spaces. Agents can also perform any one of these four actions: Ask, Reveal, Shakedown, and Capture."

"When Asking, the active player "chooses 1 of the 2 Features on the location they occupy, and asks the Recruiter if they've ever been on a location with that feature. If the Recruiter has, then a Step token is placed on that specific location. If not, agents use their Mental Note tokens, writing on dry erase tokens."
"An Agent can take the Reveal action when on a location with a Step token. The Recruiter must tell everyone the exact time that they were on the location, which can also be written onto a Mental Note token."

"Agents can Shakedown Immortals by moving onto their location, allowing the active player to guess (using deduction) one of the Recruiter's secret Feature cards. If the Agent is correct, the Feature card is revealed and the Recruit can no longer recruit from those Features. The Agent also pushes the Immoral 1 location away."

When an Agent thinks they are on the same location as the Recruiter, they can take the Capture action. If the Recruiter is present, the Agents win.

The Recruiter wins by collecting 12 recruits to their cause or by running out the clock and evading capture for 16 rounds."

"The game comes with 12 sealed packages. Whoever loses in this ONE vs. MANY game gets to open one of the sealed packages. Inside will be new components, new abilities, and new rules that will help that side in future games. In addition, each package will come with a brand new 8-page mini comic, written and illustrated by best-selling NY Times artist Matt Kindt himself. Each comic will provide a story and context to what's inside that package."

"None of the content in the game is ever destroyed or permanently changed, so you can either play through a campaign with one player always being the Recruiter, or you can mix it up and play a game with any number of the opened packages if someone else wants to be the Recruiter. The back of the rule book allows players to track multiple campaigns at a time."

Comparisons:   Fury of Dracula, Letters from Whitechapel, and Whitehall Mystery.

What Should I Pledge?:
$45 MIND MGMT Retail Game: a copy of the Retail version of the game.
$63 MIND MGMT Deluxe Game: a copy of the Deluxe version of the game, including a GameTrayz insert, Character Standees upgraded to Wooden Character Tokens, Improved Mental Screens (from cardstock to 2mm boards) with Pockets, Cardboard Mayhem Tokens upgraded to Wooden Mayhem Tokens, Cardboard Time Token upgraded to Wooden Time Token, Cardboard Dry-Erase Mental Note Tokens upgraded to 30mm plastic, mini-poker chip size, and Cardboard Step Tokens upgraded to Wooden Step Tokens.

Add-Ons:
None.

KS Exclusives
The entire Deluxe version of the game is a KS Exclusive.

All-In Total: In the continental U.S., you're looking at $63 for the Deluxe Game pledge plus $12 in shipping for a total of $75.

MIND MGMT completes its Kickstarter on Thursday, April 2nd and tentatively ships in February 2021.