Previously, On Kickstarter… #153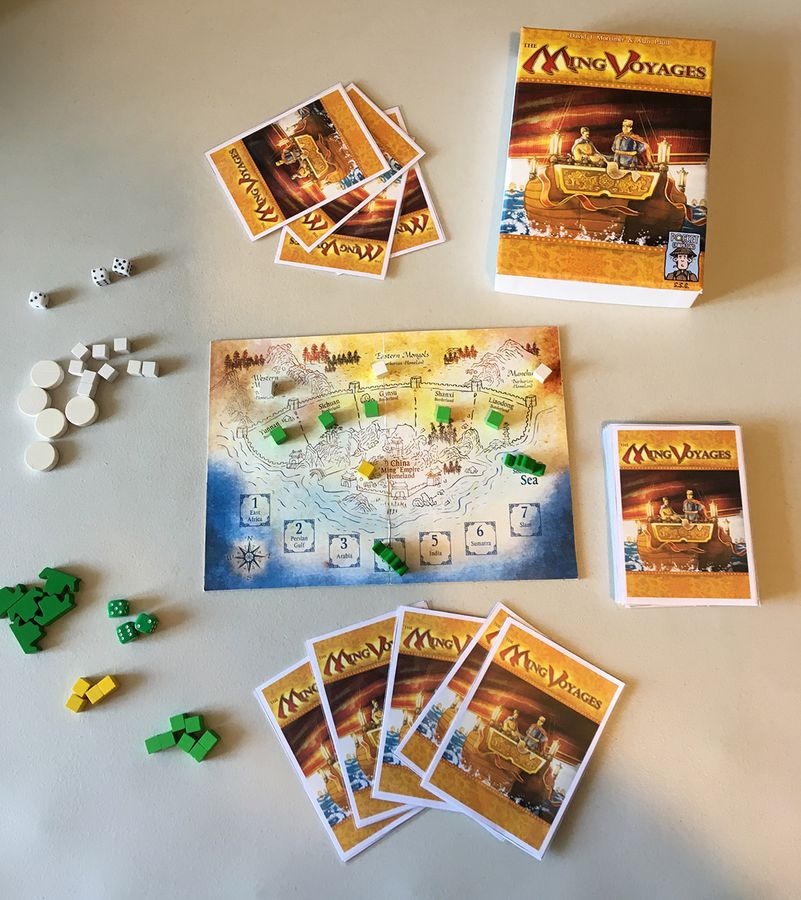 (or here's a list of what launched yesterday that might deserve a closer look)



Project:  The Ming Voyages and The March of Progress

Designers: David J. Mortimer (The Cousins' War, Dragon Slayer, Pocket Imperium); Alan Paull (Confucius; Samurai Blades; Tara, Seat of Kings)

Artist:  Klemenz Franz (Agricola; Agricola: All Creatures Big and Small; Agricola Revised Edition; Altiplano; At the Gates of Loyang; Automobile; Barenpark; Bohnanza; Caverna, The Cave Farmers; Caverna: Cave vs Cave; Clans of Caledonia; The Colonists; Endeavor; Glory to Rome; Grand Austria Hotel; Le Havre; Isle of Skye: From Chieftain to King; Luna; Merkator; Mombasa; Murano; Newton; Oh My Goods!; Ora et Labora; Orleans; Patchwork; Port Royal; Riverboat; Snowdonia; Suburbia; Watergate)

Publisher:  2Tomatoes (Belfort, Burgle Bros., Fugitive, Gold West, Hanamikoji, Magic Maze, Pax Pamir 2nd Edition, Ponzi Scheme, Root, Vast: The Crystal Caverns, Yokohama)

Genre/Mechanisms:  area majority/influence, campaign/battle card driven, card game, dice, dice rolling (The Ming Voyages); 2 players, area movement, campaign/battle card driven, card game, card play conflict resolution, scenario/mission/campaign game, simultaneous action selection, victory points as a resource, war game (The March of Progress)

Player Count:  1-2 (The Ming Voyages); 2 (The March of Progress)

Solo Mode:  yes (The Ming Voyages); no (The March of Progress)

Complexity:  medium-light

Risk:  HIGH

Summary:  "The Ming Voyages is an asymmetric game of treasure and conquests for 1 or 2 players. When playing with 2 players, one player is the Ming Emperor trying to complete all 7 Treasure Voyages as well as protecting the Chinese Borderlands from invading barbarians. The other player controls 3 barbarian factions who are trying to settle on the Borderlands with China."

"The March of Progress is a 2-player micro war-game composed of several scenarios. Each scenario changes the set-up and tweaks the rules to give a labour of strategy in different time periods from the Thirty Years War through to World War 2. The aim of the game is to control countries through the simultaneous play of action cards in order to generate VPs during scoring."

Base Pledge (w/shipping):  $25

All-In (w/shipping):  $45, includes both games

Campaign Ends:  3/16

Game Ships:  July 2020

Funding Status: Currently at 74%, with 20 days to go.