Kickstart This! #239: Canopy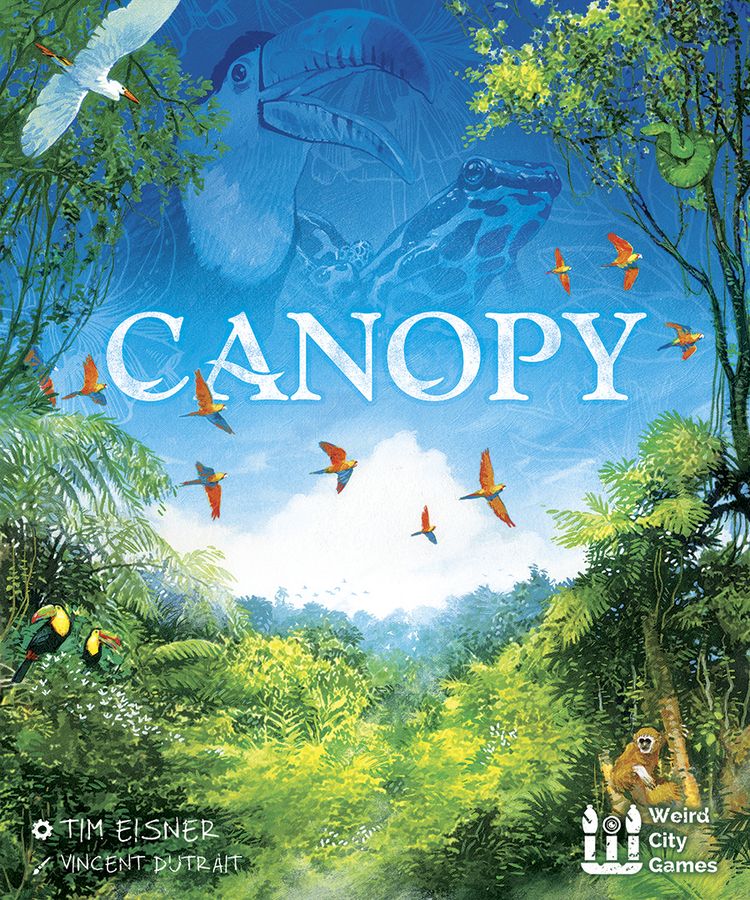 Designer:  Tim Eisner (The Grimm Forest, The Grimm Masquerade, March of the Ants)

Artist: Vincent Dutrait (Broom Service, Diplomacy, Discoveries: The Journals of Lewis and Clark, Elysium, Jaipur, Lewis & Clark, Lost Cities, Lovecraft Letter, Medici, Mythic Battles: Pantheon, New York 1901, Pathfinder Advnture Card Game: Rise of the Runelords – Base Set, The Quest for El Dorado, Raptor, Rise of Augustus, Robinson Crusoe: Adventures on the Cursed Island, Treasure Island, When I Dream)

Publisher:  Weird City Games (March of the Ants)

Genre/Mechanisms: 2 players, card drafting, card game, set collection

Funding Status: At the time of this posting, Canopy is already fully-funded. Pledges currently total more than 7.5x the initial funding goal with 3 days left to go on the campaign.

Player Count: 2

Solo Mode: no

Complexity: light

Risk: medium-high

What It's About: "Grow the most bountiful rainforest, in this two player game of card drafting, tableau building and set collection."

How It Works:  "Canopy is played over 3 Seasons. During each Season you will take turns selecting which cards to add to your rain forest from 3 New Growth piles."

"Each turn you will select cards from one New Growth pile. Each time you look at a pile you may select it and add those cards to your rain forest tableau, or return the pile face-down, adding 1 additional card. As the piles grow you must search for the plants and animals that will benefit your forest the most. But choose carefully, as the jungle also contains threats in the form of fire, disease, and drought."

"During each Season you will add cards to your rain forest. Carefully select an ideal balance of Trees, Weather, Wildlife, and Plants to grow a thriving ecosystem. At the end of each Season, you will discard all Plants, Weather, and Threat cards, leaving Trees and Wildlife to continue to grow."

"At the end of each Season you will gain points for your rain forest. Each card type offers a different way to score. Focus on attracting diverse Wildlife, building unique sets of Plants, growing the Tallest Trees, or creating ideal Weather patterns."

In final scoring, Root/Trunks score 0-2 points depending on the value printed on each card, multiplied by the 0-2 score of a Canopy placed on top. Plants, Weather, Wildlife and Active Animals score various set bonuses (and sometimes penalties) depending on the number of cards and types of each. The player with the most total points wins, with ties broken by the player with the most Wildlife.

Comparisons: Canopy is a light set collection game, with a host of various set collection scoring opportunities. There are some similarities to the modern classic 7 Wonders. And the theme of the game also reminds one a bit of Arboretum, which has variable scoring mechanics as well. A few more popular entries in the card drafting and set collection genre: 7 Wonders Duel, Abyss, Airlines Europe, Alhambra, At the Gates of Loyang, Azul: Stained Glass of Sintra, Barenpark, Biblios, Castles of Mad King Ludwig, Century: Golem Edition, Century: Spice Road, Citadels, Coimbra, Cyclades, Elysium, Endeavor: Age of Sail, Ethnos, First Class: All Aboard the Orient Express!, Glass Road, Jaipur, The Isle of Cats, It's a Wonderful World, Lords of Waterdeep, Macao, Millennium Blades, Near and Far, Point Salad, Port Royal, Rococo, Roll Player, Sagrada, Saint Petersburg, Santa Maria, Sheriff of Nottingham, Splendor, Suburbia, Sushi Go!, Sushi Go Party!, Taj Mahal, Terraforming Mars, Thurn and Taxis, Ticket to Ride, Trajan, and Wingspan.

What Should I Pledge?:
$19 Canopy Retail Edition: a copy of the retail edition of Canopy with all relevant, unlocked stretch goals.
$29 Canopy Deluxe Edition: a copy of the Deluxe edition of Canopy with all applicable stretch goals.
$37 Canopy Retail Edition + Puzzle: all of the rewards from the Canopy Retail Edition pledge level, plus a copy of the Canopy Puzzle.
$47 Canopy Deluxe Edition + Puzzle: all of the rewards from the Canopy Deluxe Edition pledge level, plus a copy of the Canopy Puzzle.

Add-Ons:
None.

KS Exclusives
The Deluxe version of the game is a Kickstarter Exclusive and will not be available via retail outlets.

All-In Total: In the continental U.S. (and assuming you're not interested in the puzzle), you're looking at $29 for the Canopy Deluxe Edition plus $7 in shipping for a total of $36.

Canopy completes its Kickstarter on Friday, July 10th and tentatively ships in June 2021.