Kickstart This! #215: Rush M.D. – ICU Expansion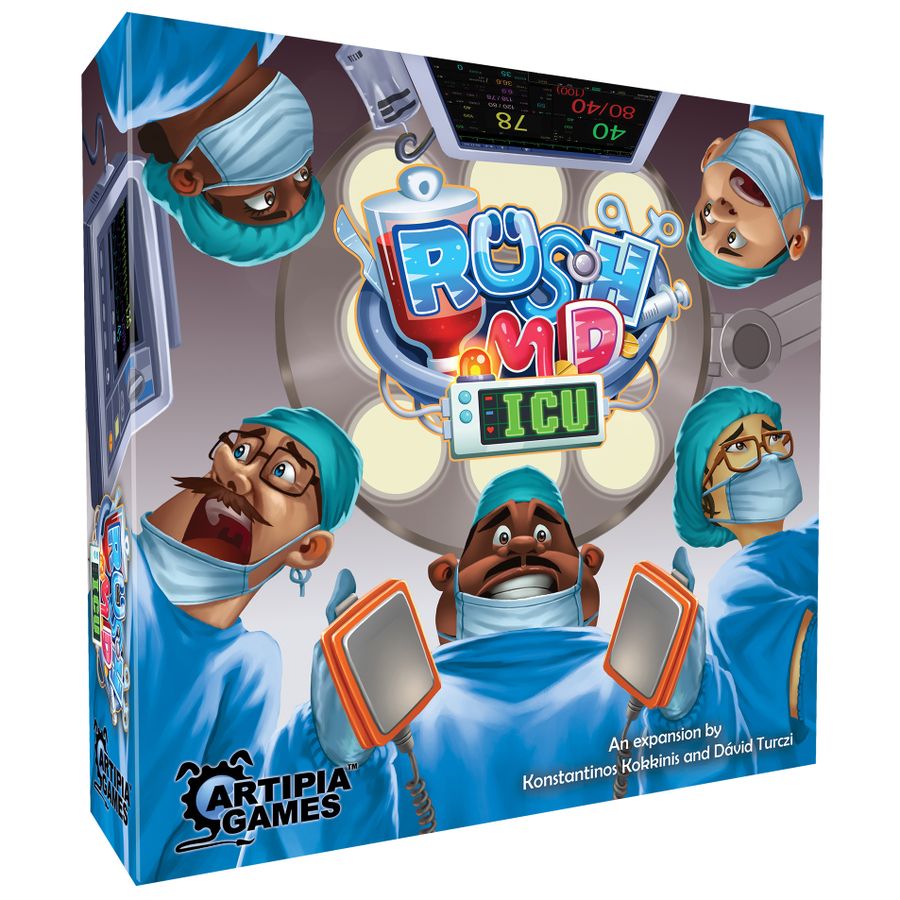 Designer:  Konstantinos Kokkinis (Drum Roll, New Dawn, Project: ELITE), David Turczi (Anachrony, Cerebria: The Inside World, Kitchen Rush, Trismegistus: The Ultimate Formula)

Artist:  Gong Studios (Aeon's End, Aeon's End: The New Age, Radiant: Offline Battle Arena, Tiny Towns)

Publisher:  Artipia Games (Among the Stars, Fields of Green, Kitchen Rush, The Pursuit of Happiness)

Genre/Mechanisms:  action/dexterity, action timer, cooperative game, elapsed real time ending, real-time, worker placement

Funding Status:  At the time of this posting, Rush M.D. – ICU Expansion is already fully-funded. Pledges currently total more than 5x the initial funding goal with 4 days left to go on the campaign.

Player Count:  1-4

Solo Mode:  yes

Complexity:  medium-light

Risk:  medium-low

What It's About:  Rush M.D., an "innovative, real-time, cooperative worker placement game that simulates the challenging and high-pressure nature of medical professions by using hourglasses as workers," returns with a new ICU expansion featuring an ICU and 4 new Examination Clinics.

How It Works:   "Rush M.D. comes with 6 game boards which represent various Hospital departments. Each fame board features a number of action spaces on which players can put Hourglasses to perform actions. Based on your player count and table space, you can setup these boards in any way you prefer to maximize your gameplay potential."

"Rush M.D. is a cooperative game. This means that all players work together against the game and you win or lose as a team. The game is played in a series of 4 rounds. Each round you admit Patients, run the necessary exams, and offer the appropriate treatment. At the end of the 4th round you check to see if you managed to accomplish the objective you had (which usually is about collecting Reputation points without reaching 0 Medical Points in the process)."

Each round is made up of 3 phases: the Medical Council phase, in which players move the Round Marker forward and then discuss potential strategies before any timers have been activated; the Action Phase, which is played in real-time, with players taking actions using hourglass workers (when the timers run out, the workers' turns do as well); and finally the Medical Evaluation phase, where players check for Epidemics, receive points for properly treating Patients they can then discharge, and take penalties for Medical Errors like ignoring diagnoses, providing incomplete medication dosages, providing incorrect medication, and not performing or properly completing Surgeries.

The new ICU expansion "introduces the Intensive Care Unit (ICU) board, where you will be required to perform electrocardiograms (ECGs), defibrillation, and administer pump-infused drugs (PIDs) quickly and efficiently to save the lives of critically ill or severely wounded patients. It also adds a new Medical Examinations board with 4 new thematic, dexterity mini-games to offer more choices for your game. In Rush M.D. you will also find brand new ICU patients as well as new Hospitalized patients, new objectives, and more."

Comparisons:  The best comparison may be Artipia's other "Rush"-titled game co-designed by David Turczi, Kitchen Rush. Rush M.D. is not a simple re-skin of Kitchen Rush, but both games do feature real-time worker placement and sand timer/hourglasses as workers. Kitchen Rush's theme involves cooking, and can be viewed as a board game in the vein of the popular Overcooked! video games. Rush M.D. is hospital-themed. Some other popular real-time board games include 5-Minute Dungeon, Captain Sonar, FUSE, Galaxy Trucker, Sorcerer City, and Space Cadets.

What Should I Pledge?:
$28 ICU Pledge: includes a copy of the Rush M.D. – ICU Expansion with all ICU stretch rewards.
$79 Chief of Medicine Pledge: included all of the rewards of the ICU Pledge, plus a copy of the Rush M.D. base game.

Add-Ons:
$16 Maternity & Dental Clinics Expansion
$15 Set of Rush M.D. KS1 Rewards: includes all of the stretch rewards generated during the initial Rush M.D. Kickstarter campaign.
$3 Pack of Premium Euro Sleeves (50, at 90 microns)
$3 Pack of Standard Euro Sleeves (100, at 40 microns)
$2.50 Pack of Premium Mini-Euro Sleeves (50, at 90 microns)
$2.50 Pack of Standard Mini-Euro Sleeves (100, at 40 microns)

KS Exclusives
None.

All-In Total: In the continental U.S., you're looking at $79 for the Chief of Medicine Pledge, $16 for the Maternity & Dental Clinics Expansion, $15 for the Set of Rush M.D. KS1 Rewards, and $14 in shipping for a total of $124.

Rush M.D. – ICU Expansion completes its Kickstarter on Monday, May 11th and tentatively ships in Dec. 2020.