Kickstart This! #318: ISS Vanguard (on Gamefound)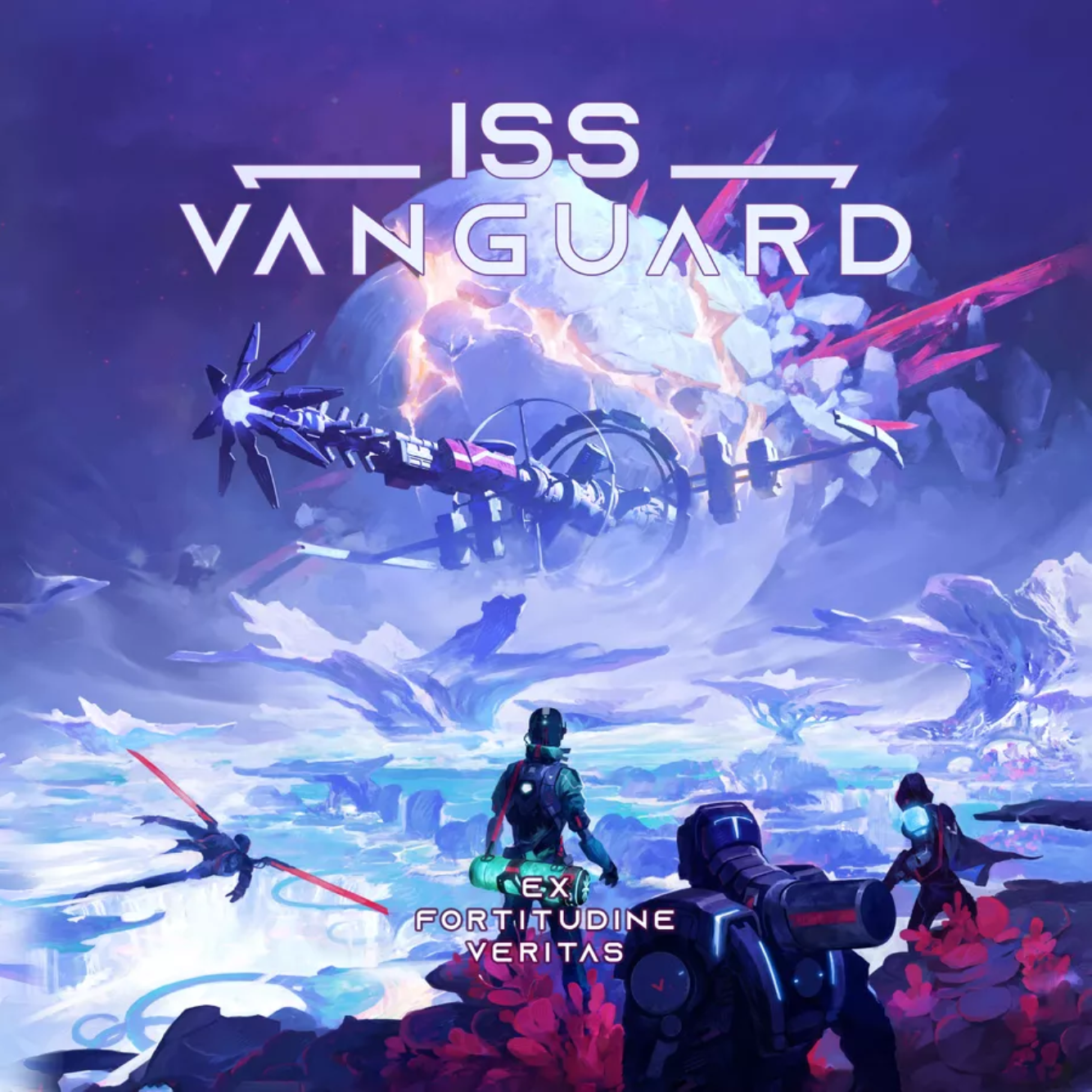 Designers: Michał Oracz (Cry Havoc, Neuroshima Hex! 3.0, This War of Mine: The Board Game), Paweł Samborski, Krzysztof Piskorski (The Edge: Dawnfall, Tainted Grail: The Fall of Avalon), Marcin Świerkot (The Edge: Dawnfall, Siege Storm, Tainted Grail: The Fall of Avalon)

Artists: Ewa Labak (Etherfields, Nemesis, Tainted Grail: The Fall of Avalon), Dominik Mayer (Concordia, Concordia: Venus, Hadara), Patryk Jędraszek (Nemesis), Piotr Gacek (Etherfields, Lords of Hellas, Nemesis, Tainted Grail: The Fall of Avalon, This War of Mine: The Board Game)

Publisher: Awaken Realms (The Edge: Dawnfall, Etherfields, Lords of Hellas, Nemesis, Tainted Grail: The Fall of Avalon, This War of Mine: The Board Game)

Genre/Mechanisms: adventure, card drafting, cooperative game, dice, dice rolling, exploration, miniatures, science fiction, scenario/mission/campaign game, space exploration, storytelling

Funding Status: At the time of this posting, ISS Vanguard is already fully-funded. Pledges currently total almost 69x the initial funding goal with less than 3 days to go on the campaign!

Player Count: 1-4

Solo Mode: yes

Complexity: heavy

Risk: low

What It's About: "A co-operative campaign and epic sci-fi adventure with hard player choices, twists, branching storylines, and gameplay split into 2 phases. The Ship phase features 4 different sections (security, recon, science, engineering) while onboard the first human ship with the possibility to reach outer space. During the Planet Landing phase, players prepare their crew for landing on the next planet, in search of answers to humanity's biggest questions. Together they pick the lander and customize it with modules, then each section chooses a crew member to take on a mission (more experienced crew members have better ranks), and further customize with deck-building skills, equipment, and dice."

How It Works: As there's no rulebook publicly available yet, I can't delve into too many specific details of gameplay, but I can talk about it in a broader sense.

"Base gameplay is divided into a) landing on planets and discovering its secrets and b) managing the ship in between missions, where you can recruit new crew members, research materials, produce new equipment, landers and ship modules. You can expect a lot of epic stories, hard gameplay decisions, some real sacrifices and consequences of your decisions."

"Preparations for humanity's first and only multi-generation mission took decades and spanned everything from meticulous planning of the ship and its systems to social and political simulations. To avoid the crew splintering into antagonistic factions, a system of four Sections was created, each with their own focus and traditions, but all working together for a common goal." The Engineering Section is "a caste of builders and constructors who will turn new knowledge into equipment and systems unseen on earth." The Science Section is for "inquisitive minds who will wrestle with mysteries of alien life." The Recon Section is for "pioneers tasked with finding and exploring new worlds." And the Security Section is made up of "tireless guardians, protecting the internal stability of the ship, and shielding others from threats found in the deep, dark void."

"As a player, you will represent a leader of one the sections, second only to Captain. You will upgrade and develop your section's gear, take part in many decisions about Vanguard's mission, and most importantly – recruit people for your section, develop them, and take care of them if needed."

"Recruits are drafted from a huge pool of potential candidates – each with a unique ability. You will be competing with other players for recruits you want the most, as their perks are often a good match for every section. Just make sure to take good care of your crew members – they earn experience and ranks during missions, but they can also suffer wounds or die. When faced with a dangerous world to explore, is it better to choose a novice and help him get more experience, or to risk an experienced crew member with an advanced deck of cards who is more likely to succeed? Should you cut down the recovery time of a wounded crew member and push them back into action with injuries, just because their abilities are a good match for this planet? The choices will often be hard!"

"Every mission will be a 1-2 hour session where you explore a chosen planet or another explorable object. It's up to you how many missions you wish to complete in your campaign, though findings from many different worlds are required to move the story forward. Performing a successful mission isn't easy – start by deciding how much energy and time you are going to spend to scan the planet in advance, learning about hazards and conditions on the surface, and discovering dangers awaiting on the approach. Planets you land on will be represented by a book with many part-scripted, part-procedurally generated planetary boards that offer a great balance of story experience and re-playability. Even planets that use the same board can play very differently, with different planet-wide effects, hazards, and different tasks that can trigger on them while you explore."

"Some events that happen on the planet will be conveyed in a unique way – as special mission logs. They contain research notes, field reports, and even transcripts of dialogue between the crew members and Vanguard's bridge, and will often ask you to make a key decision. What's even more important, these logs will be integrated together with a save sheet, so that the whole experience is as seamless as possible, without additional components needed.   The logs will take you on an amazing adventure, with branching stories that will keep your group on the edge of their seat."

Comparisons: The most direct comparison is probably Orange Nebula's current in-production Kickstarter Unsettled. This is another big, sprawling space-themed adventure with very high production standards, from the publisher of Vindication. Other narrative/exploration-focused cooperative campaigns include the likes of The 7th Continent, Arkham Horror: The Card Game, The City of Kings, Descent: Journeys in the Dark, Etherfields, Forgotten Waters, Gloomhaven, Gloomhaven: Jaws of the Lion, Legends of Andor, The Lord of the Rings: Journeys in Middle-earth, Mansions of Madness, Middara, Sleeping Gods (which will deliver its Kickstarter this month), and Star Wars: Imperial Assault.

What Should I Pledge?:
$99 ISS Vanguard: Core Box: a copy of the Core Box with all unlocked, relevant stretch goals.
$179 ISS Vanguard Commander's Pledge: everything in the Core Box Pledge, plus the Close Encounters Miniatures expansion and the Miniatures stretch goals.

Add-Ons:
$19 Galactic Almanac: 100-120 page hardcover art book with extra story.
$11 Core Box Sundrop pre-paint
$59 Commander's Pledge Sundrop pre-paint
$16 Personal Files Expansion: includes book with 180 extra personal stories and new Veteran-level of character development with 90 Veteran cards

Exclusives
I don't believe ISS Vanguard will be headed to retail, but this is still unclear. It would make sense for Awaken Realms to limit availability via Gamefound since this is the first big crowd-funding campaign for the platform. Likely if it does end up going to retail, it would just be the Core Box, and likely without Sundrop.

All-In Total: In the continental U.S. you're looking at $179 for the ISS Vanguard Commander's Pledge, $59 for the Commander's Pledge Sundrop pre-paint, $16 for the Personal Files Expansion, and $45 for split-wave shipping for a total of $299.

ISS Vanguard completes its Kickstarter on Thursday, January 7th and tentatively ships in August 2021 & April 2022.