Kickstart This! #3: Freshwater Fly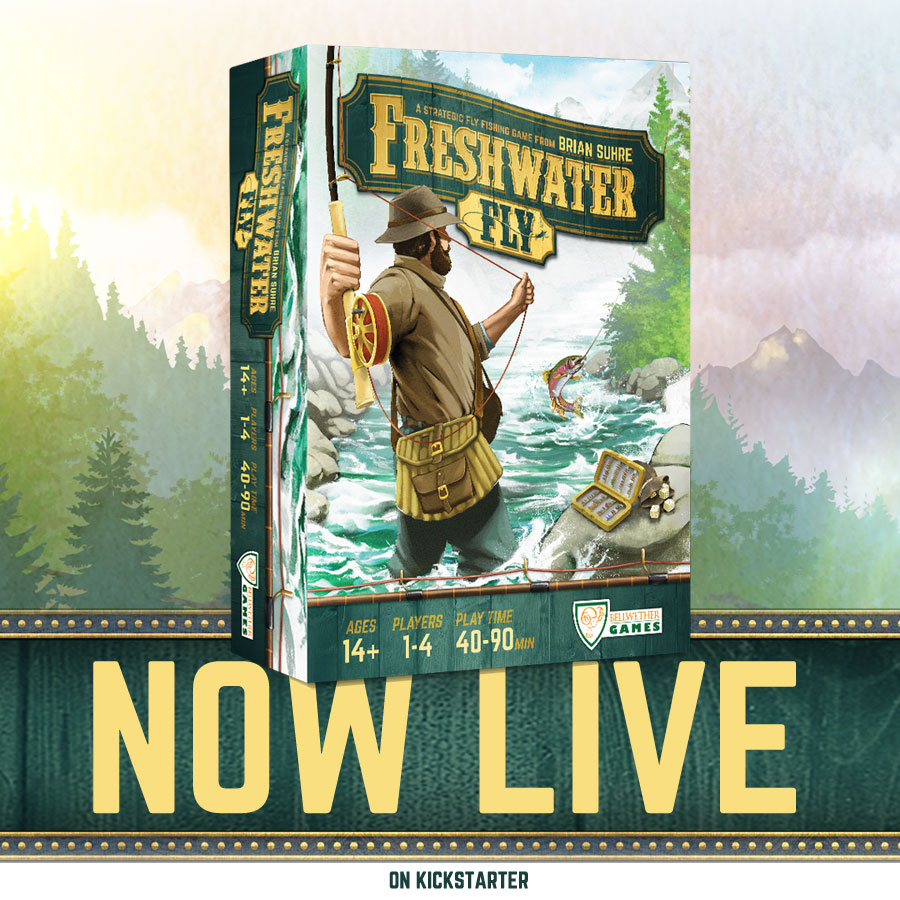 Designer: Brian Suhre (Coldwater Crown, Paradox, Winterborne)

Artist: Darryl T. Jones (The Alwaysgreen Garden, Dobbers: Quest for the Key, Into the Black Forest)

Publisher: Bellwether Games (Antidote, Coldwater Crown, Mars Open: Tabletop Golf)

Genre/Mechanisms: dice rolling, press your luck, rondel, set collection

Funding Status: At the time of this posting, Freshwater Fly is already fully-funded.  In fact, pledges currently total more than 3.5x the initial funding goal.

Player Count: 1-4

Solo Mode: yes

Complexity: medium-light

Risk: medium-low

What It's About: This fly fishing-themed, dice-drafting and set collection game features a rondel on the player boards simulating a fishing reel.

How It Works: Players draft dice each round, which can be used to Cast, Reel, or Finesse.  Casting allows players to earn 1-2 strike cards depending on if their cast aligns with matching Hatch tokens on the moving stream, and whether or not they drift downstream.  Reeling has the player balancing drag with momentum as they attempt to reel the fish in. Gaining 2 Finesse allows players to gain a better casting angle or recalibrate to the behavior of the fish on the line.  And Bonus Actions include Finesse Actions to gain extra Strike cards, modify dice values, move Hatch tokens, change a Fly, or apply Drag; Momentum Actions to gain a tile, and Skill Actions to gain special abilities.  The player with the lowest pip count of the round becomes first player in the following round.  After a player catches 7 fish, they trigger the end of the game.

Comparisons: Macao uses individual rondels on player boards, and Coloma (a redesign of Hangtown) uses a central rondel that affects all players and player actions each round.  Other fishing-themed games include Hey, That's My Fish, as well as Coldwater Crown, another game designed by Brian Suhre and also available through the Freshwater Fly KS campaign.

What Should I Pledge?:
$49 Freshwater Fly (Basic):  copy of the game with the KS Edition Strike Card Pack.
$64 Freshwater Fly (Deluxe): copy of the game with the KS Edition Strike Card Pack and the Deluxe Upgrade Pack.
$115 Two Games: select either 2 copies of Freshwater Fly (Deluxe), or 1 copy of Freshwater Fly (Deluxe) and one copy of Coldwater Crown with the Coldwater Crown Jetsam Promo Pack.

Add-Ons:
None.

KS Exclusives:
The Deluxe Upgrade Pack is a KS Exclusive and will not be available at retail.  It includes a Deluxe Casting Token (replacing the retail version's generic casting token), 12 Wood Flies (replacing cardboard tokens), 4 Wood Drag Tokens (replacing cardboard tokens), 4 Wood Finesse Tokens (replacing cardboard tokens), and a faux leather pouch (replacing the cloth bag).

All-In Total: In the continental U.S., you're looking at $64 plus $5 shipping for a total of $69.

Freshwater Fly completes its Kickstarter on Thursday, April 25th and tentatively ships in September 2019.