Kickstart This! #160: Unsettled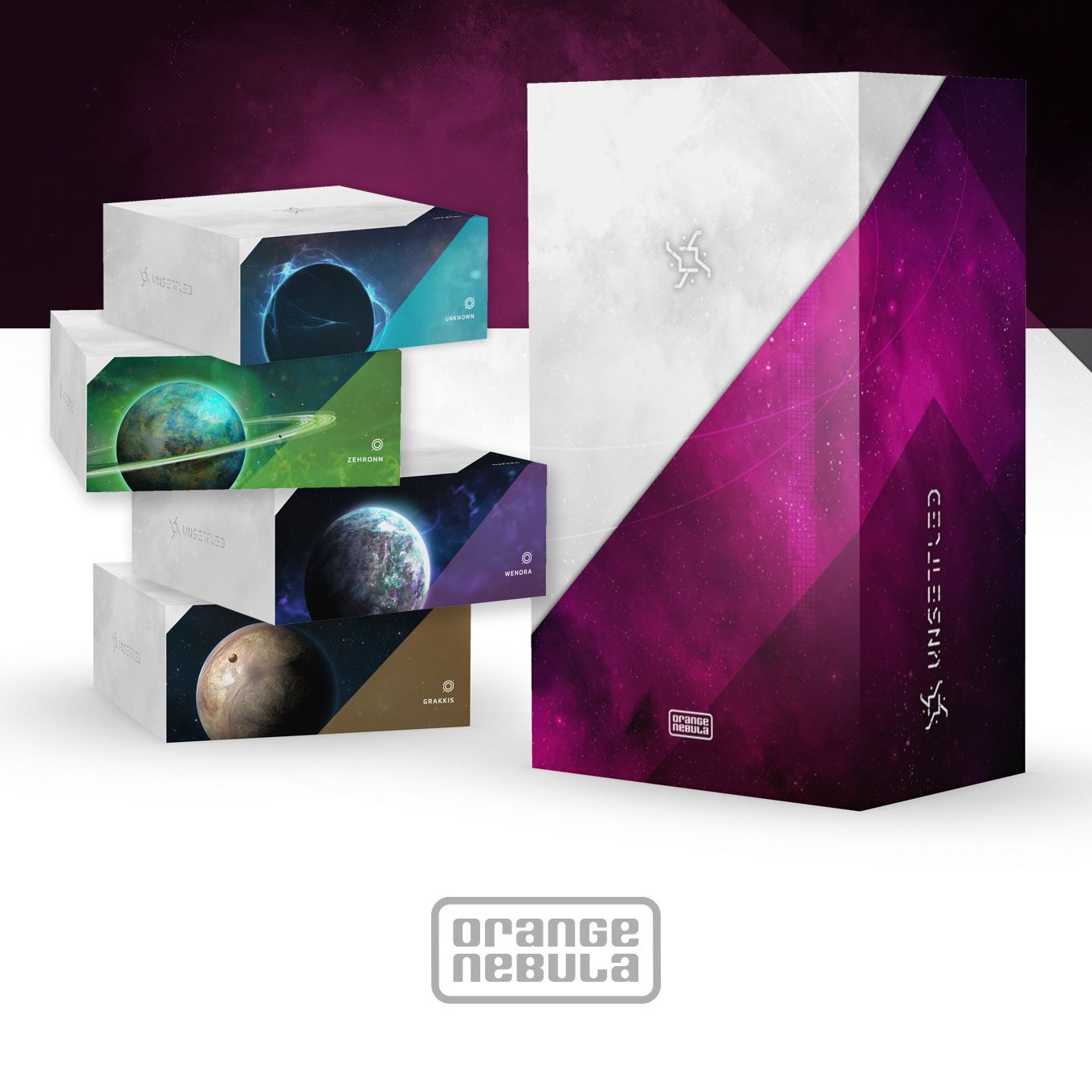 Designer: Marc Neidlinger (Vindication, Vindication: Leaders & Alliances), Tom Mattson (Vindication: Leaders & Alliances)

Artists: Reza Afshar (Duhr: The Lesser Houses), Eren Arik (Solar Ocean: Colonies), Bartek Fedyczak (Aeon Trespass: Odyssey, Flotilla, Vindication, Waste Lands: Second Edition), Grady Frederick, Matt Olson, Duy Phan, Quentin Stipp

Publisher: Orange Nebula, LLC (Vindication, Vindication: Leaders & Alliances)

Genre/Mechanisms: cooperative game, modular board, variable setup

Funding Status: At the time of this posting, Unsettled is already fully-funded. In fact, pledges currently total almost 14x the initial funding goal, with 8 days left to go on the campaign!

Player Count: 2-4

Solo Mode: no

Complexity: medium-heavy

Risk: medium-low

What It's About: "A 2-4 player cooperative survival adventure set in the wondrous and unnerving fringes of uncharted space" without enemies or combat, where every game features a different set of survival tasks to complete; players can choose to play from among 6 different planet boxes, each functioning as a different standalone base game with different environments, roles, stories, survival tasks, and types of game-play.

How It Works: Unsettled is a cooperative game with variable conditions given even more variety by which Planet players choose to use for their game session. "Each time you play you will have a different combination of survival tasks to complete and the things you discover (and their weird properties) will be different as well. So while you always start out knowing what problems you need to solve you have no idea how you're going to use the world before you to do so (or what the world is going to do to you while you try).

As you explore the environment, encountering wild & unique opportunities along the way, you will work closely with the rest of your crew to achieve your goal of continued existence. The only thing you can be sure of is each other; lose that and you'll lose all hope of survival."

The Unsettled Game Framework used no matter which Planet is incorporated with any single game session includes: recessed player boards, the Luna robot research mini, player minis, three different scientific Disciplines variable among different members of a player's crew, tiles representing Group Trust and Personality Peculiarities that can change over the course of a game, and three different types of Focus (Awareness, Wonder, and Energy). Each of the 6 different Planet boxes comes with its own different Environment, Challenges, Opportunities, Scientific Discoveries and Anomalies, Scientific Breakthroughs, Conditions, Survival Tasks, and GameTrayz inserts.

At the beginning of a game, players should 1) read aloud the planet overview of their selected planet, 2) read aloud the narrative of both active objectives/survival tasks, 3) review each explorer's personality peculiarities and be mindful of the group's social dynamic, and 4) select first player. From there, players take turns in player order, doing up to 4 different things on their turn in any order they so choose. Each turn, the active player must Set Focus, but they may also Move Their Explorer, Move LUNA, and Take Free Actions.

Players use the 3 different Focus "dice" to set their actions. Each of these has 4 functional faces, labelled with 3, 2, 1, and a time symbol. The other two faces simply have iconography to distinguish the dice from each other. Once a player runs out of units on the dice, they can still take actions using time. Explorer Movement does not include diagonals, and each explorer begins with a base movement of 2 units. LUNA also has a starting base movement of 2 units. And Free Actions include Exchanging Inventory, Consuming a Concoction, and Abandoning a Discovery. There is much more to the various mechanics of the game, but essentially players are exploring and moving around the map, using a variety of abilities, triggers, cards, and tiles to perform different actions and implement different strategies in their fulfillment of the the game's survival tasks.

Players win together when there are no more active survival tasks and all explorers have returned to the ship tile. Players lose together if all explorers' endurance has been reduced to 0.

Comparisons:  Surely one of the best comparisons is Orange Nebula's previous game, Vindication. Not because the two games share much in common in terms of gameplay mechanics. But the top-notch level of Orange Nebula's design and productions standards are already quite clear two games out of the gate. Vindication is a well-balanced variety of mechanisms, with components and a production standard that immediately put Orange Nebula at the top of the industry along with the likes of Chip Theory, Eagle-Gryphon, Leder, Mindclash, and Stonemaier Games. And they're obviously two for two based on the evidence of Unsettled's Kickstarter campaign.

Think of the game itself as a heavier version of something like Forbidden Island with a ton of mechanics and outstanding component design. It's Forbidden Island by way of Vindication, or any other heavier game with terrific design elements. Forbidden Island meets Anachrony, but focused on space exploration instead of time management and manipulation. And of course, what makes the game so special are the 6 different planets that allow for a huge shift within the theming and mechanics from game-to-game. It gives the game a bit of a campaign feel simple because of its scope, even though the game plays cooperatively in standalone sessions. The design of the project, much like the goal of the game itself, is all about the joy of exploration and the intricacies of problem-solving.

What Should I Pledge?:
$89 Explorer Pledge: the Unsettled Base Framework, Planets 001-004 (Wenora, Grakkis, Zehronn, and the community-designed planet), and all free Kickstarter items/unlocks.
$134 Blackout Pledge: everything in the Explorer Pledge, plus Planets 005-006 (Strannos & Kaelyfos) and 6x Sleeve sets (one for each Planet).

Add-Ons:
$15 Strannos & Kaelyfos
$5 Custom Card Sleeves (includes sleeves for an entire planet, plus at least 10 extra sleeves of each size– 44x68mm & 110x110mm)

KS Exclusives:
It's unclear if anything will bypass retail completely, but both the community-designed planet and Kaelyfos have been included with the various pledge levels essentially for free. When Unsettled does eventually hit retail, expect to see planets selling at an MSRP of at least $15 each. Currently the community-designed planet is being included with every pledge as an extra that has not raised the pledge price, and backers who buy Strannos either as an Add-On or as a part of the Blackout Pledge are also getting Kaelyfos for "free" along with the $15 Strannos price tag. All Backers are also currently receiving 14 Art Prints along with their pledge, and it's unlikely these will be included with the eventual retail version.

All-In Total: In the continental U.S., you're looking at $134 for the Blackout Pledge plus $20 in shipping for a total of $154.

Unsettled completes its Kickstarter on Wednesday, January 8th and tentatively ships in October 2020.