Kickstart This! #158: Divinity Original Sin The Board Game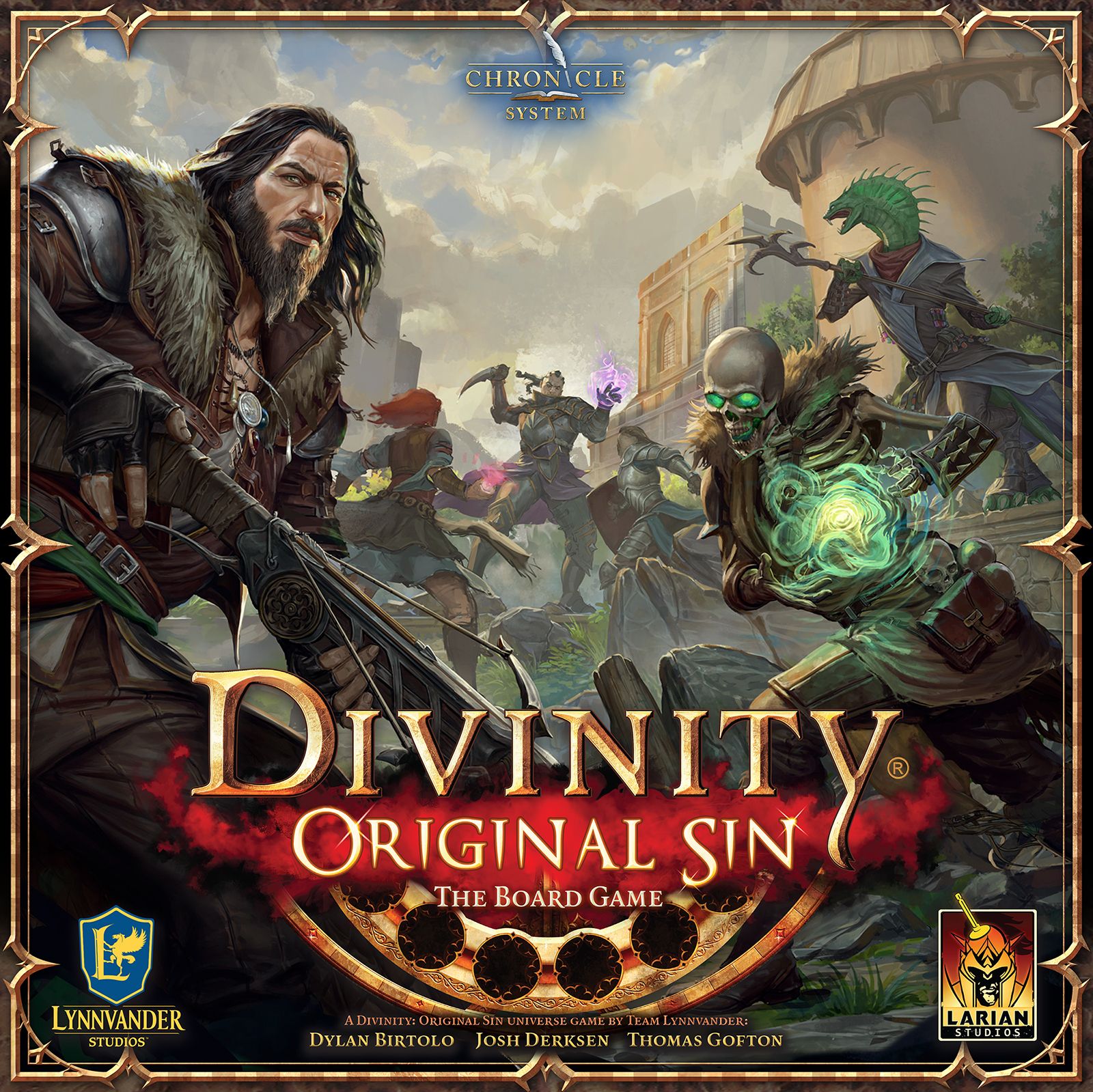 Designers: Dylan Birtolo (Dragonfire, Shadowrun: Sprawl Ops), Josh Derksen (Buffy The Vampire Slayer: The Board Game, Shadowrun: Sprawl Ops, Terminator Genisys: Rise of the Resistance), Thomas M. Gofton (Albion's Legacy, Buffy The Vampire Slayer: The Board Game, Terminator Genisys: Rise of the Resistance)

Artists: Steven Bellshaw (Red Sonja: Hyrkania's Legacy), John Stanko (The Lord of the Rings: The Card Game, Mage Wars Arena, Magic: The Gathering), Ryan Valle (Star Wars: Imperial Assault, Star Wars: Rebellion, Star Wars: Outer Rim)

Publisher: Lynnvander Studios (Albion's Legacy, Cowboy Bebop: Boardgame Boogie, Sherwood's Legacy)

Genre/Mechanisms: action points, cooperative game, exploration, legacy game, narrative choice/paragraph, role playing, storytelling, variable player powers, video game theme

Funding Status: At the time of this posting, Divinity Original Sin: The Board Game is already fully-funded. In fact, pledges currently total almost 9x the initial funding goal with 2 days left to go on the campaign!

Player Count: 1-4

Solo Mode: yes

Complexity: medium-heavy

Risk: high

What It's About: An adventure game and adaptation of the popular Divinity: Original Sin video game franchise, featuring narrative storytelling and choices, tactical combat, and the Chronicle System, allowing players' choices to impact not only their story but the future of the Divinity: Original Sin universe.

How It Works: Unfortunately, Lynnvander Studios has not supplied a rulebook anywhere, so the rules description will be more of a summary, and taken from what is posted in the Kickstarter campaign and on the BoardGameGeek page:

"Divinity Original Sin: The Board Game is an epic adventure game set in the world of Rivellon. Up to 4 players take their heroes on a branching, narrative adventure, filled with tactical combat and meaningful choices.

Players read from a story book and decide as a team where to go and how to respond to the world around them. Depending on the characters' traits and abilities, they might have unique options available to them during the specific story sections.

Story choices direct players to explore locations. Then players place a unique set of cards around the game board. Every member of the party must choose which area to visit. Both the story and the artwork for the locations may discover clues of what to expect. Each player picks up their location card. Some reward your curiosity by rewarding with new treasure or recipe ingredients. Then again, some locations will have traps or lead into combat.

Combat plays out over a number of rounds where players and monsters take turns acquiring action points (AP) and use them to move around, use items, and perform skills. Players use the skills they acquire throughout the game to perform unique and powerful attacks, some with additional elemental effects. Most skills require some cooldown time before they can be used again, so choosing which skills to use when is of critical importance.

The iconic elemental interactions of Divinity Original Sin are here! Make a monster wet, so another player can hit it with ice to freeze it solid and keep it from acting. Or maybe your ally hits the enemy with lightning to make it stunned! Creating combinations is a must to ensure victory against the most challenging of enemies. Watch out though, because enemies can create combinations as well.

Thanks to the Chronicle System, the choices you make will impact not just your own story, but the future of the Divinity Original Sin universe. This game is based on the award-winning Divinity Original Sin II video game by Larian Studios."

Comparisons: The best comparison for the game is simply going to be the Divinity Original Sin video games. In the world of board games, Dead of Winter is the only cooperative game in BGG's top 1000 that also includes narrative choices and action points. But a few fantasy-themed games that also feature adventure and exploration are Above and Below, Claustrophobia, Descent: Journeys in the Dark, Gloomhaven, Mage Knight, Mansions of Madness, and Mice and Mystics.

What Should I Pledge?:
$120 Divinity Original Sin: Standard Edition: a copy of Divinity Original Sin: The Board Game and all unlocked stretch goals.
$165 Divinity Original Sin: Premium Edition: the Standard Edition pledge rewards, plus the Boss Upgrade Pack, Metal Coin Set, Extra Dice, and Upgraded Leather Bags.
$220 Divinity Original Sin: Extended Edition: the Premium Edition pledge rewards, plus Side Quest Boxes #1 & #2.

Add-Ons:
$40 Boss Upgrade Pack: includes miniatures for all 8 core game bosses
$20 Metal Coin Set: 20 coins (15 1-Gold pieces and 5 5-Gold pieces)
$15 Extra Dice: 16 etched & painted dice
$15 Upgraded Bags: in sheepskin leather
$85 Wooden Insert: from The Broken Token
$40 Side Quest Box #1 (Nemesis): includes the Demon Caster boss miniature, Story Book, and 89 cards
$40 Side Quest Box #2 (Haunted Keep): includes the Sphinx boss miniature, Story Book, and 88 cards
$60 Vallejo Paint Pack: acrylic paint set with 16 different colors in 17 ml bottles
$120 Gemstone Dice Set: 15 dice (5 black, 5 blue 5 red, and 1 white) made of ulexite

KS Exclusives:
None listed.

All-In Total: In the continental U.S., you're looking at $220 for the Divinity Original Sin: Extended Edition pledge and $22 in shipping for a total of $242. If you also want to include the Broken Token Wooden Insert and Vallejo Paint Pack, then $387. And with the Gemstone Dice Set, $507.

Divinity Original Sin: The Board Game completes its Kickstarter on Friday, December 20th and tentatively ships in October 2020.